How we discovered Ciclismoplus
I belong to a women's cycling club in Boulder, Colorado called the Petunia Mafia who worked with Ciclismoplus to arrange for a week-long custom bike tour in Tuscany during the month of June 2022.  There were 8 of us ladies that were able to fly in from Denver, and we experienced an amazing, unforgettable cycling adventure in Italy.  We were picked up at the airport in Pisa, and then driven by shuttle to our starting destination in the walled medieval town of Montalcino.  The tone was set on the first day with a lovely afternoon snack laid out on the hotel's terrace with sweeping views of the countryside, followed by a fun afternoon loop where we got a taste of the days to come.  I recall finishing that first ride cycling back along the high wall into town and feeling like I was dreaming – everything warm and golden, vineyards and castles in the distance, an exotic scent in the air.  We finished the day with an amazing fixed-course dinner al fresco under oak trees lit by string lights.  Gabriele, Max and Ingo were wonderful from the start – thoughtful guides, informative, and ensuring at all times that we were well cared for and entertained!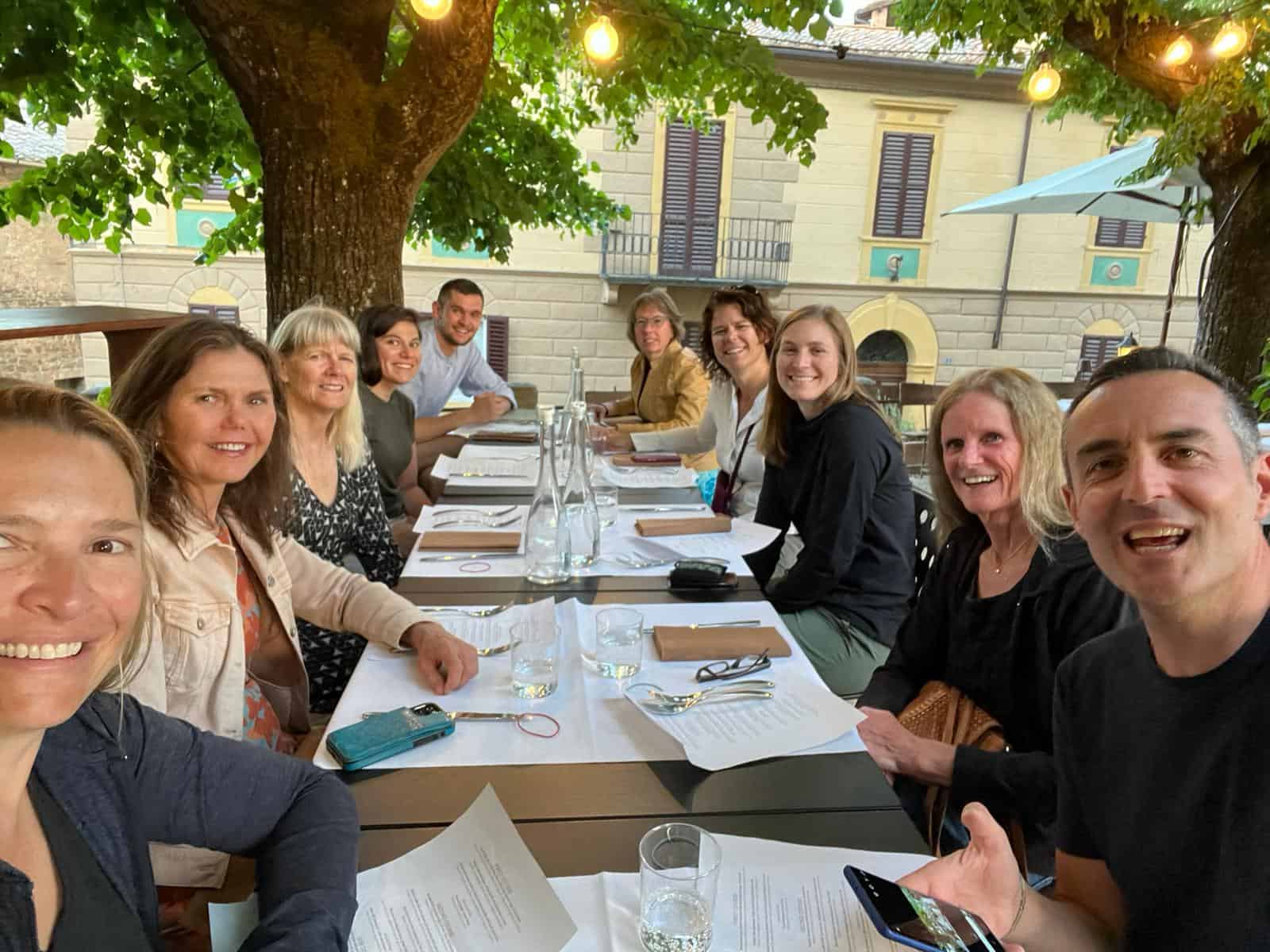 Montalcino & Siena Bike Tour
The next 5 days were spent riding between 40 and 50 miles per day, on enjoyable rolling terrain throughout Tuscany.  The routes were beautifully selected to be on country roads that had enough climbing to be interesting, and included rewarding vistas, quaint towns, and delicious lunch breaks.  The support vehicle was always within reach should we need to refuel or require mechanical support, and we refilled our water bottles at public fountains in the towns we passed through.  Most days were loops, but one day was a relocation from Montalcino to Siena, our second overnight destination.  Both hotels we stayed in were lovely with deliciously fresh and filling breakfasts, comfortable beds, and modern bathrooms.  A highlight was the evening that we had masseuses arranged for us at the hotel, a luxury!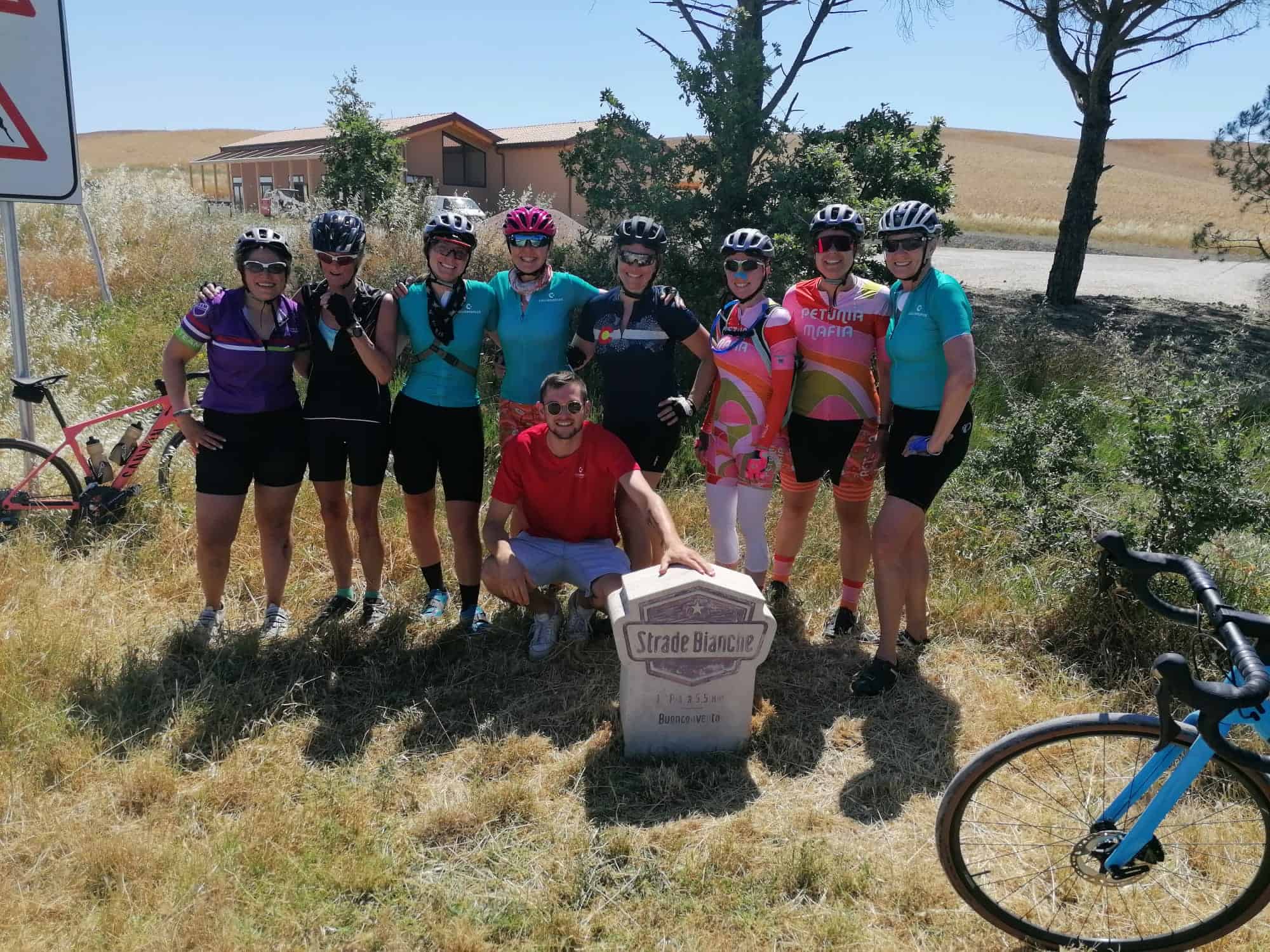 Our rides wound through the hilly wheat fields in the Val d'Orcia, through the Etruscan countryside, criss-crossing the Strade Bianche, around the Crete Sensei and finally my personal favorite region – the lush hills of Chianti.  We stopped in many medieval towns, a travertine quarry, past vineyards and forests, and had time to shop in a cool bike store at the start of L'Eroica bike race.  Our guides were familiar and well-versed in the history of the regions, and were also tolerant of supporting my efforts to increase my Italian language skills – gavettonami!  They also provided many surprises along the way including fresh pastries, gelato, a refreshing stop at a river where we cooled off, and an amazing grand finale apertivo under olive trees with a view of Monteriggioni.
Our evenings were just as enjoyable as the days.  We had time to walk around Montalcino and Siena and see the main attractions, and our dinners each evening were pre-arranged at wonderful restaurants with fixed course menus that we could review in English and select from.  It was special having Gabriele, Max, Ingo and then Mauro join us for most of our meals – I felt like we were able to immerse ourselves into the Italian culture and benefitted from their stories, camaraderie, and translations!

Ciclismoplus is…
I would definitely recommend Ciclismoplus to friends looking into a cycling tour in Italy!  They handled all of the logistics flawlessly, made fantastic choices for routes, accommodations, and food, and provided a high-quality set of bicycles.  They are a personable group of guides and made sure that we had a great time, were safe and comfortable.  I laughed so much on this trip, can't believe how many memories can come from just one week.  We were beautifully tired on the last day, but still not ready for it to be over.  We're already dreaming of our future bike tour in Sardinia!
Content provided by Julie Anne Stiff