How we discovered Ciclismoplus
When our cycling club was approached by Max in the fall of 2019 about putting a group together to go on a cycling tour in Italy, we were enthusiastic! After all, who does not want to go cycling in Italy? Who does not want to cycle the hills and villages of the Tuscan countryside, eat gelato, drink vino, and marvel at the country that gave the world the Renaissance? We eagerly paid our deposits and started making plans to go in May of the following year.  May of 2020…..
And then…Covid.
We could not have known then that it would be 3 years from that first contact, before our bike trip in Tuscany would be realized. During that time, Max and Gabriele stayed in touch with us, encouraging us not to give up, always certain that the time would come. Finally in Sept of 2022, we boarded a plane and crossed the ocean, full of high hopes and big expectations.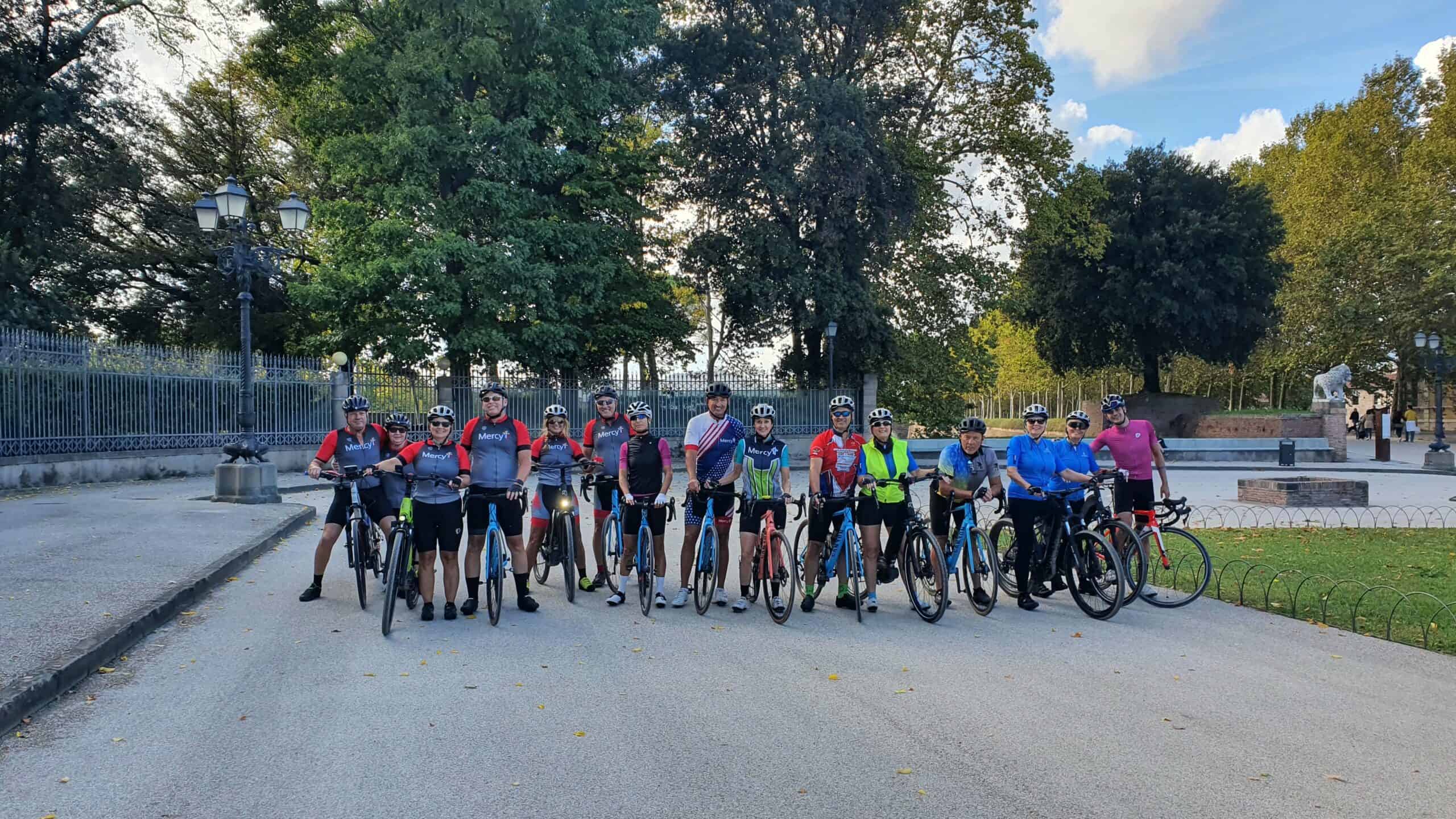 Lucca Bike Tour
Rain had been forecast for the week of our bike tour in Lucca, and rain it certainly did! Nevertheless, Gabriele worked creatively every day, switching up routes and days and starting times to make sure that we could still ride. And we did ride every day! One particular day, the rain chased us all the way back to Lucca, but we made it just in time. The rain, and the mist it created, made the mountains and villages appear even more ethereal than they already were. Italy is so beautiful! Lush vineyards and olive trees everywhere! And Lucca is a little gem of a town with its own culture, food, and shopping. We were enchanted by Collodi, the birthplace of Pinnochio, Montecarlo, Viareggio by the sea, and many others as we passed through.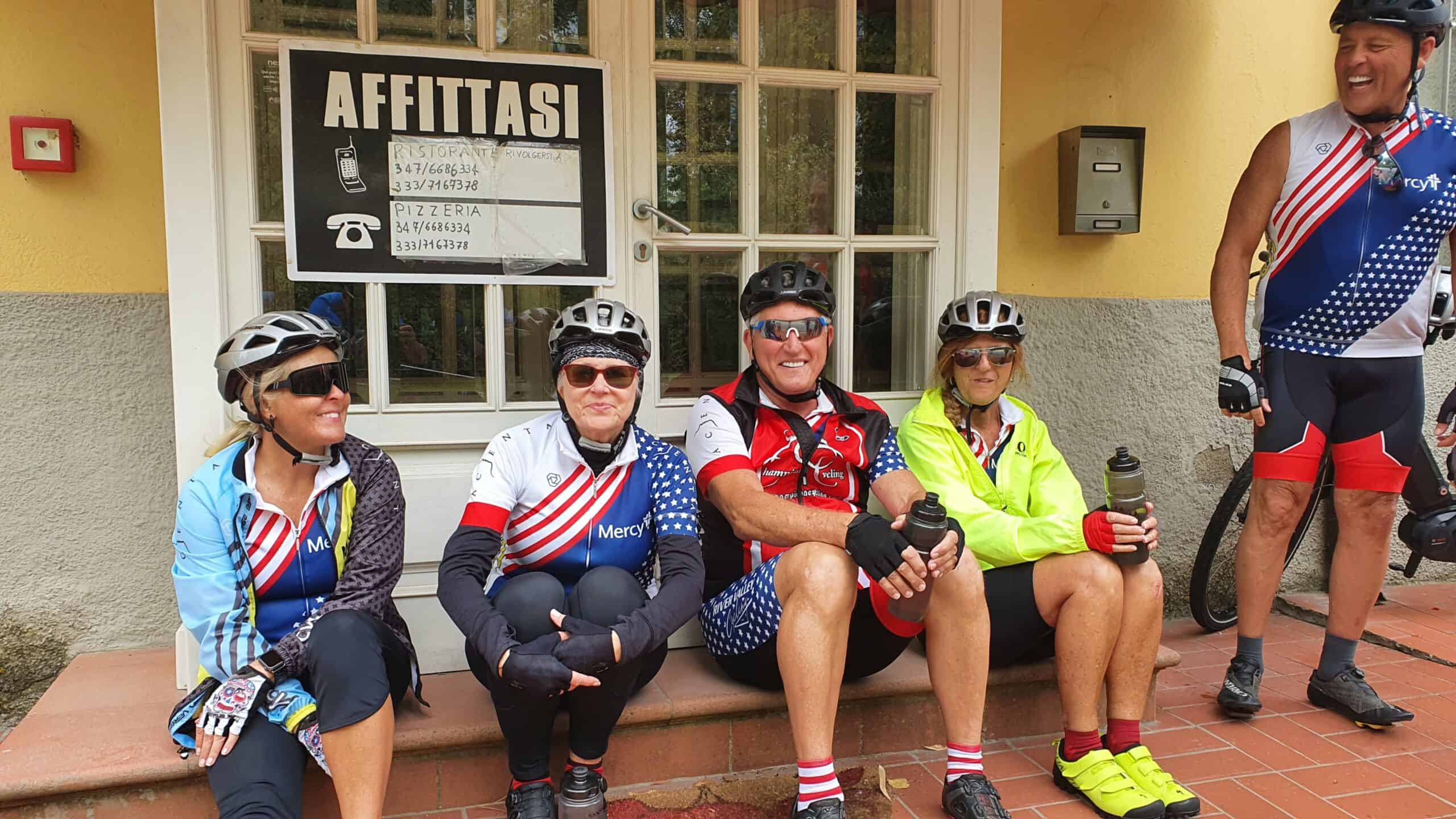 A word about Monteserra…the Italians describe it as a "serious climb" and when an Italian says that something is a climb, you need to believe them, as they know a thing or two about mountains. It is the climb that you think will never end and halfway up you will surely be thinking, "Oh hell! Who thought this was a good idea?" But the view at the top is spectacular, and the effort involved in getting there is well worth it when you are standing on the summit. There might also be an opportunity to test yourself against cycling groups from other countries who are also huffing and puffing their way to the top.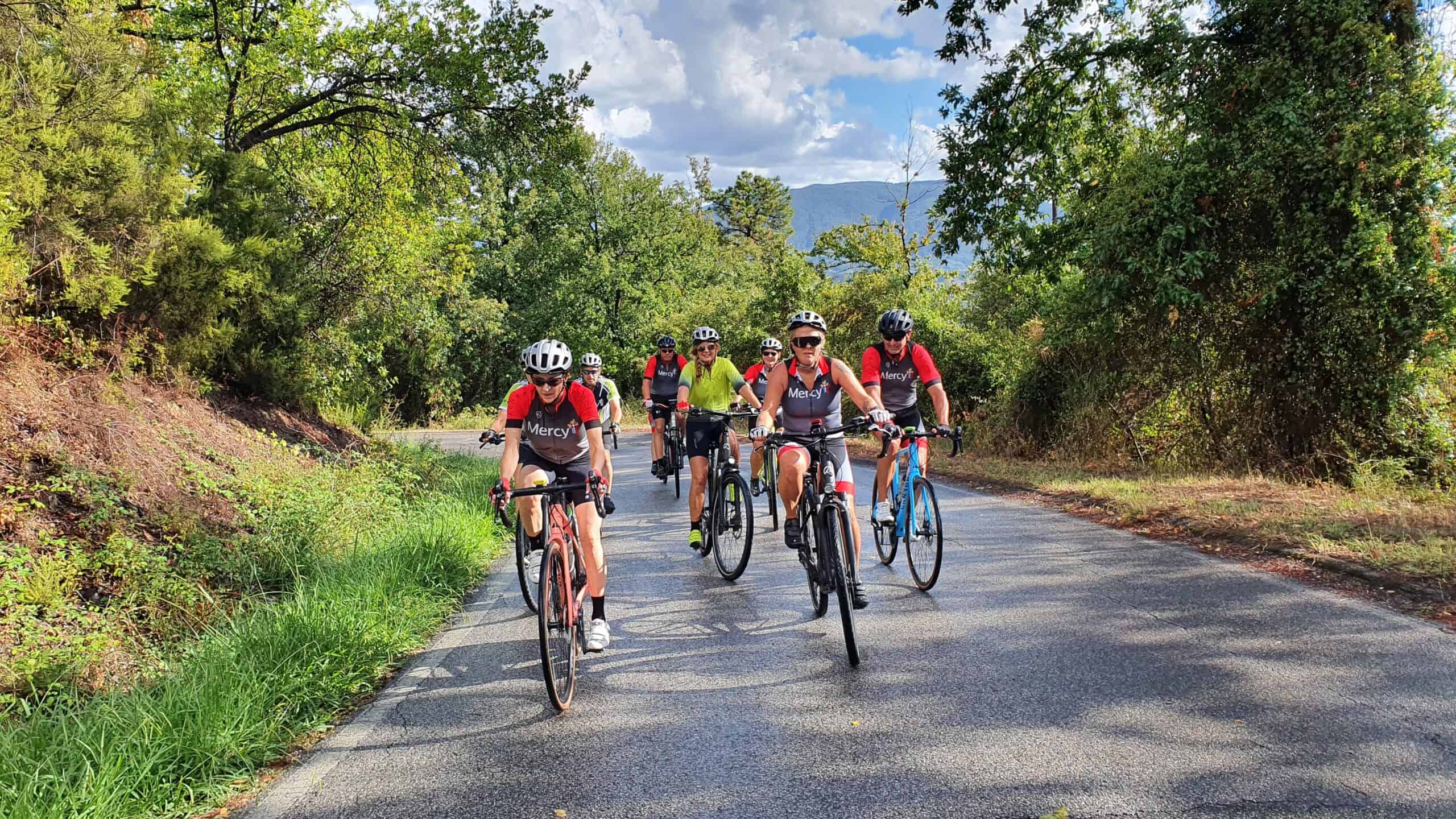 Ciclismoplus is…
What makes Ciclismoplus exceptional, is its staff! Gabriele, is the Owner and ride leader. He is the consummate professional, the planer, attentive, and always one step ahead of what is going on. Not the least of his skills was his ability to safeguard his charges through areas of high traffic and the Italian roundabouts and narrow roads. Unaccustomed to those conditions, we tended to be a little remiss, but Gabriele made sure that no one was run over, once even chastening a motorist who got too close. Italian is a wonderful language for chastening motorists. I have no idea what Gabriele said, but it sounded wonderful while he was saying it. Then there was Max, the good-natured Brit.  Max does a lot of different things for the company, but once the Tour started, he became our interpreter of language and custom everywhere we went. Max also provided the sag support for the rides. Always ready with a banana or a coke, a jacket or a bike part, Max was ubiquitous.  And finally, Omar, the young, very, very, good Italian cyclist who rode with us and brought up the rear. Omar was so much fun! He fit right in with our guys, and their jokes and pranks. By week's end, we felt like we were all old friends who had made some never to be forgotten memories!
We enjoyed the Lucca Bike Tour so much!  We would recommend it to others!  And we would go again ourselves!
Content provided by Josie Taylor